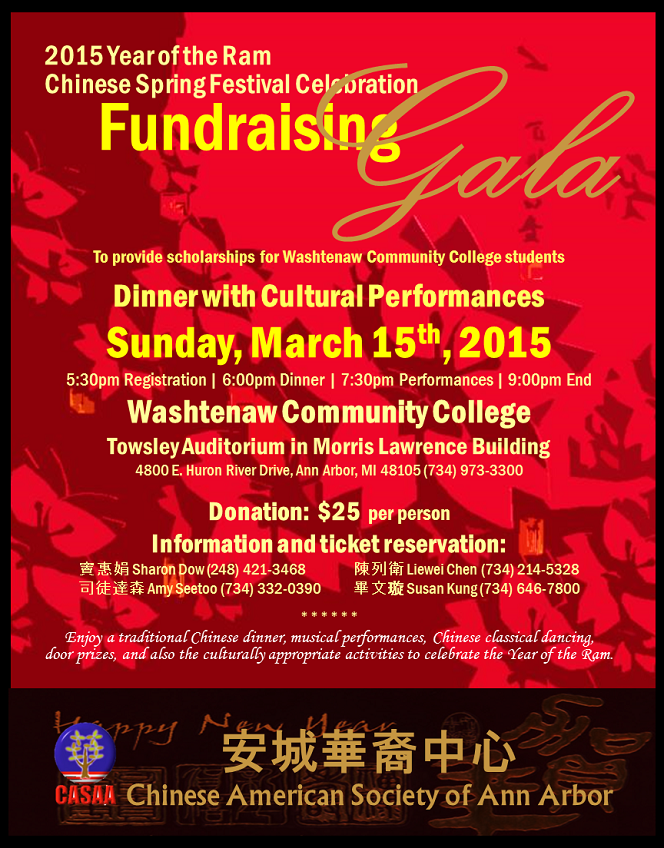 安城華裔中心 (CASAA) 謹訂於三月十五日晚間六時,假Washtenaw Community College舉辦2015年 度『羊年吉祥.愛 心募款迎春晚會』,晚會活動所籌募捐款將贊助Washtenaw Community College清寒獎助學金,以資助家境清寒學生,鼓勵認真求學完成大學院校學業,也幫助他們開創未來。
迎春晚會將於六時開始,先享受精美的中式晚餐,並互賀春節,餐後開始欣賞生動有趣的節目。如往年一樣,安城華裔中心將邀請社團及社區朋友們做精采才藝演出,會後並有摸彩及禮物贈送,祝福朋友們於新春時刻『吉羊康泰』,搶得好彩頭。
感謝大家對安城華裔中心的支持,邀請您及好友們撥冗參加與我們一起歡度佳節並響應捐款。為統計人數及順利安排,請告知出席,以便 預留座位。
安城華裔中心
You are cordially invited to attend CASAA's 2015 Spring Festival on March 15 (Sunday) in the evening.  The Spring Festival is CASAA's annual charity fundraiser event.  It is to be held at the Morris Lawrence Building on the campus of Washtenaw Community College (WCC).  The recipient of this year's fundraising will be WCC in support of its scholarship program for students.
The Spring Festival activities, which include a sit-down dinner in the lobby followed by musical and dancing performances in Towsley Auditorium, promise an evening of fun for guests of all ages.    The dinner will be served at 6:00, and performances will begin at 7:30 PM.  To celebrate the Year of the Ram, CASAA will also provide culturally appropriate activities and door prize drawings. 
CASAA has donated to various organizations and causes, and in 2015, CASAA Board decided to raise funds to support the scholarship program at WCC.  We hope you will invite your friends and families to participate in this meaningful and fun-filled evening.  To attend the inner and performances, the donation is $25 per person.  Please contact me directly at (248) 421-3468 or our Board of Directors for further information and ticket reservation.
Please join us for this event and we look forward to seeing you there!
Sincerely,
Sharon Dow 竇惠娟
CASAA President, 2015